A new streamlined range of clutches from SunBoss mean no more chunky looks of the past! Available in white, cream and black, the new SunBoss clutches have been designed to operate with quiet, smooth, light operation, to provide maximum strength and minimise light gaps.
The SunBoss Mini clutch has been developed for installations with space limitations, where full sized blind systems simply cannot fit. Whether that is on a boat, caravan, RV or even back of a door, the Mini clutch can fit where it's bigger brothers simply cannot go.
The FastRise version of the Mini clutch a powerhouse in a small package.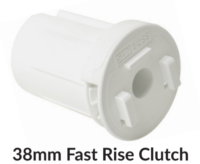 • Versatile. Direct drive clutches for everyday use and geared clutches for larger blinds. The geared clutch utilises our unique HardCore metal core technology that surrounds the core of the clutch to make it smoother, quieter and more durable for the long term.
• Smooth, quiet, reliable. We've eliminated the chain guard for smoother and quieter performance and less damage in transit. We also use a Stabiliser Bar to keep the clutch firmly in the brackets for smoother operation.
• Durability and strength. Our clutches are made using UV stabilised, glass-filled nylon. Inside the direct drive clutches are multiple small springs, made using square profile wire. These springs have more contact with the core, creating stronger braking effect, but with less effort needed to operate.
• Modular. Spring assists including ZeroGravity springs, fit both larger clutches, plus the FastRise clutch. All three are also sized to fit directly into a 38mm tube, or larger tubes using tube adapters. 40mm universal tube needs no adaptor for use.
• Flexible. The mini clutch is sized for 32mm tube, while all others are suitable for direct use with 38mm tube, or can fit 43mm, 50mm and 63mm tubes using tube adapters. Both Standard and Geared clutches are compatible with both uni-tubes.
• No fuss. Easy two-stage opening that is quicker and easier to fit chains- no screwdriver required.