Reflective Blinds History
The business, the basis for the foundation of Reflective Blinds and Energy Shield was started in 1979 by Val and Peter Schweinsberg when they purchased a franchise under the name of Reflective Insulations Centre. This gave them the right to a specific area of the North Shore of Sydney, where they sold a range of insulating materials supplied by the franchiser.
Trading commenced in October 1979, from a showroom in Help Street Chatswood, but by January 1980 had become unsatisfied with the franchisors and following legal advise, cancelled the agreement and moved back home working from their garage.
In 1980 they started by buying one roll of film, and with difficulty talked Hunter Douglas into selling them a box of roll formed steel tube and a box of brackets. Set up a table tennis table and struggled to make their first blind. As they slowly improved in their manufacturing skills, their customers also increased together with sales.
Initially manufactured, supplied and fitted products direct to the public, they sold transparent polyester film blinds both reflective and non-reflective, window film, fiberglass and foam bulk insulation, and sarking for under floors, all under the name: Reflective Blinds. They also supplied and fitted conventional blinds made by other manufacturers all under the same name.
Late in 1980 they commenced making blinds for Sky Dome Industries and have been making this product continuously for them and other major skylight companies across Australia since.
As popularity increased, other products were slowly dropped from the range and started manufacturing other types of blinds of a conventional nature.
In 1981 they were approached by one of the principals of Triangle Refrigeration, and with their help, designed and manufactured blinds for all open faced dairy cabinets in supermarkets. Although Triangle Refrigeration no longer exists, Reflective Blinds is still supplying these products to various other refrigeration companies in Australia and New Zealand.
All sorts of customers from retail shops, window filmers, builders and interior decorators interstate and overseas approached them requesting Reflective Blinds. By 1983 there were twelve distributors in the Sydney Metropolitan area, eighteen in NSW country towns, three in Queensland and one in Victoria.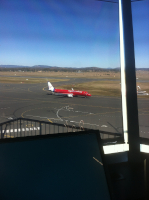 In 1989 they were asked to supply and fit blinds to the Rockhampton and Mackay Air Traffic Control Towers. Since then the product was progressively improved, developing special hardware and creating credibility as a preferred supplier for these applications.
The first major breakthrough was when they were asked by Civil Aviation Australia to upgrade several NSW towers. Following these, Reflective Blinds were invited to install blinds into the new Sydney Tower. This involved integrating motorized blinds with the new computer system they were installing. As a result of this success, they were nominated and made the supplier for new Towers being built in Tamworth, Darwin and Nowra. Reflective Blinds is now the largest supplier of blinds to Airport & Maritime Towers in Australia.
Petrol service station became popular and grew over time and also the need for reflective blinds. They won their first major contract with Shell which established Industry standards followed to this day. Subsequently Woolworths/Caltex, BP, Coles/Myer/Shell, Mobil/Quix, 7/11, etc., which all have Reflective Blinds on their suppliers list. The application of a truly transparent blind protected the sales staff from the sun, shaded the sensitive cash register terminals, and protected the chocolates, all the while enabling the staff to have a clear view of the pumps. When the sun left the windows they could be just rolled up out of the way. Since then the company has gained Australian Institute of Petroleum and Oil Company specific qualifications.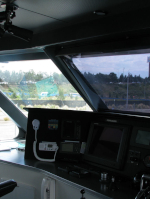 As well as this, Reflective Blinds were also requested by ship providers to supply and fit blinds on ships whilst in port. This market has also grown dramatically and Reflective Blinds now supply a number of large ship builders, the Royal Australian Navy, Sydney Harbour Ferries, Spirit of Tasmania and the Police.
Motivated by a drive for continual improvement attitude and "How can I do this better" and a spirit of creativity, previous and current Directors have developed and built state of the art machinery for the manufacturing of Reflective Blinds and future products.
They are also very particular in training employees in both manufacturing and Installations areas.
In 1991 CSIRO conducted fire ratings tests for the then Reflective Blind films under AS1530 part III. In this test the film scored zero on all indices except smoke emitted which was a very good rating one out of ten.
New Fire Ratings were obtained for the full current range of films in 2003 using AS/NZS 3837:1998. They were tested by CSIRO and given an average specific extinction area significantly less than the required 250m²/Kg. Refer to specification C1.10a section 3(c) of the Building Code of Australia.
Being rated for inclusion in Group 1 means that they are suitable for use in all areas of the following classes of buildings both sprinklered and non sprinklered:
–  Class 2 & 3: Sole occupancy units
–  Class 3 or 9a: Accommodation for the aged, people with disabilities, children & health care.
–  Class 5: Buildings, open plan offices with minimum floor dimension/ceiling to ceiling height ratio >5.
–  Class 6: Buildings , shops or other with a minimum floor dimension/floor to ceiling height ratio >5.
–  Class 7, 8, or 9b: Schools & classrooms.
–  Class 9b: Other than schools: theatres and halls, etc, auditoriums.
–  Class 9c: Aged care buildings, resident use areas.
Therefore Reflective Blinds are fire safe for use in almost any window.
By 1991 Reflective Blinds became the blind industry's representative in various matters, which culminated being invited to join the AWA (Australian Windows Association). This resulted in Reflective Blinds and Energy Shield being incorporated in the Windows Energy Rating Scheme in 2002, and subsequently data was sent to CSIRO for incorporation in the National Home Energy Rating Scheme. Eventually this could make Reflective Blinds eligible for consideration in the energy rating specifications of every new house built in Australia and New Zealand.
Service
We strive to always provide the best possible service.
Service you can count on
With our extensive industry experience we deliver superior service.
Stylish Features
A large range of modern accessories and components.
Get the modern look
We offer a range of modern colours and the latest component style trends.
16 Film Options
Various film choices depending on your requirements
The choice is yours
With 16 film types to choose from, we have something to suit your requirements.