Reflective Roller Blinds
PRESERVE YOUR VIEW – LIKE PUTTING ON SUN GLASSES
PROTECT YOUR FURNITURE – 99% REDUCTION IN UV
REDUCE GLARE – 91-97% REDUCTION IN GLARE
REDUCE HEAT GAIN – 50-80% REDUCTION IN SOLAR HEAT GAIN Depending on the film chosen and the design of the window.
REDUCE HEAT LOSS UP TO 20-45% IN WINTER Depending on the size and design of the window and the way the blind is installed.
DAYTIME PRIVACY – PEOPLE CANNOT SEE IN UNDER NORMAL DAYLIGHT CONDITIONS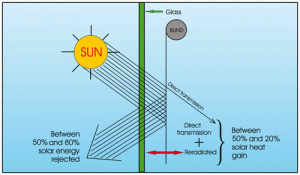 Reflective Blinds have been developing and marketing Reflective Blinds since 1979 and are continually improving designs and applications. Some of their applications have been world firsts and they are recognised internationally as a leader in the use of reflective polyester for blinds. Reflective Blinds can be motorised for control at the flick of a switch or operated automatically on time switch or light sensitive switch.
Reflective Blinds are made to measure and an obligation free measure and quote service is available from the manufacturers or one of the many distributors.
Do-it-yourselfers can save by doing their own measuring and fitting. Do-it-yourself instruction sheets and order forms are available on request.
Performance varies between films in the range.
Contents copyright © 2001-2006 the Proprietors, Reflective Blinds.